How
To
Leverage
Data
For
Better
Strategic
Planning
Strategic planning season is here with management teams formulating plans that will guide their institution to success. Callahan & Associates shares tips to how to enhance the impact of the planning season.

Every institution approaches strategic planning differently. Some go on retreats with their management teams and boards; others stay close and engage a broader group of managers. Some hire consultants to provide guidance and perspectives on a range of issues; others rely on in-house talent to assemble content and shepherd the planning experience.
Regardless of the approach to or location of planning sessions, incorporating peer analysis is an ideal way to enhance the impact of strategic planning. After all, with current, accurate financial data at hand, for themselves as well as peers, credit unions can correct weaknesses and identify areas on which to capitalize.
Callahan & Associates' Peer-to-Peer software contains hundreds of pre-built financial graphs and tables to assist in strategic planning. Knowing where to start and choosing what to analyze can be daunting, but that shouldn't stop teams from putting together a relevant financial analysis presentation. That's why Callahan has compiled 36 benchmarks covering six high-level areas of credit union financial performance to steer strategic planning in the right direction.
Membership Growth
A credit union's business strategy is a major driver of its member growth. More effective strategies for a given marketplace typically yield stronger member growth. The board's philosophy toward service levels, delivery channels, product pricing, and breadth of services also influence member growth. Additionally, member growth is a great litmus test for evaluating the introduction of new products and services by a credit union.
Other Growth Trend Ratios To Consider include Delinquency Ratio
The delinquency ratio measures the credit risk of a loan portfolio. It is a forecaster of future loan losses; therefore, unusual increases or decreases generally affect future earnings.
The level of delinquency a credit union can sustain is a function of several factors, including loan income, credit risk management, and loan loss management. Risk-based pricing is often accompanied by higher delinquency, but credit unions typically compensate for that higher delinquency by charging higher interest rates and in turn, achieving higher loan yields.
A low delinquency rate, on the other hand, can imply a credit union's underwriting policies are too conservative. Credit unions should evaluate this ratio in conjunction with their loan-to-share ratio, loan loss ratio, and ROA.
Other Asset Quality Ratios To Consider:
First Mortgage Delinquency
Other RE Delinquency
Auto Delinquency
Credit Card Delinquency
Annual Net Charge-Offs
A Strategic Planning Report Tailored For Your Credit Union
2020 is just around the corner. As you prep and plan to have strategic conversations with your team start with a custom Strategic Planning Trend Report from Callahan. This report will be tailored to your credit union's size, location, business strategies, and areas of strategic focus – and packed with historical data and visualizations that track your progress and compare you with relevant peers.
Loan-To-Share Ratio
A credit union's loan and deposit acquisition performance drive its loan-to-share ratio. Unless liquidity is an issue, most credit unions concentrate on building the loan portfolio rather than focus on deposits.
A credit union's operations — sales culture, marketing, product development, risk management, etc. — generally influence loan growth more than deposit growth. Non-operational factors, such as membership demographics, are what tend to influence deposit growth. A higher loan-to-share ratio typically indicates greater profitability, and in broader terms, is an indication of how efficiently a credit union is leveraging its deposit portfolio to achieve stronger performance and create member value.
Other
Business
Model
Ratios
To
Consider:
Interest Income/Average Assets
Interest Expense/Average Assets
Net Interest Margin
Non-Interest Income/Average Assets
Operating Expenses/Average Assets
Provision For Loan Loss/Average Assets
Return On Assets
Earnings Model
Net Worth Ratio
Risk-Based Capital Ratio
Productivity
And
Member
Relationships
Members
Per
Employee
(FTE)
The members per employee ratio measures the productivity of a credit union's employee base. In theory, a higher ratio means a credit union is more productive, but other factors also play a part.
When examining the ratio, credit unions should also consider product penetration rates, members per branch location, the geographic distribution of the membership, and field of membership requirements. Strategic factors that impact the ratio include organizational goals — sales versus service models — growth, and product and technology development.
MEMBERS
PER
EMPLOYEE
(FTE)
FOR
U.S.
CREDIT
UNIONS
|
DATA
AS
OF
03.31.19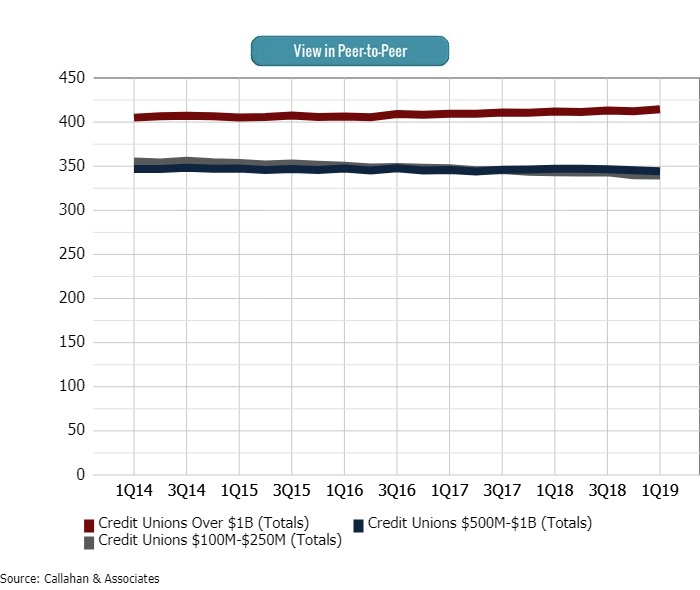 Other
Productivity
And
Member
Relationship
Ratios
To
Consider:
Assets Per Employee (FTE)
Loan Originations Per Employee (FTE)
Loan Originations Per Member
Income Per Employee (FTE)
Salary And Benefits Per Employee (FTE)
Revenue Per Salary And Benefits
Share Draft Penetration
Auto Penetration
Credit Card Penetration
Yield On Loans
Yield On Investments
Average Loan Balance
Average Share Balance
Other
High
Level
Areas
To
Consider
Loan Portfolio Composition
Deposit Portfolio